How To: Create Your Perfect Box!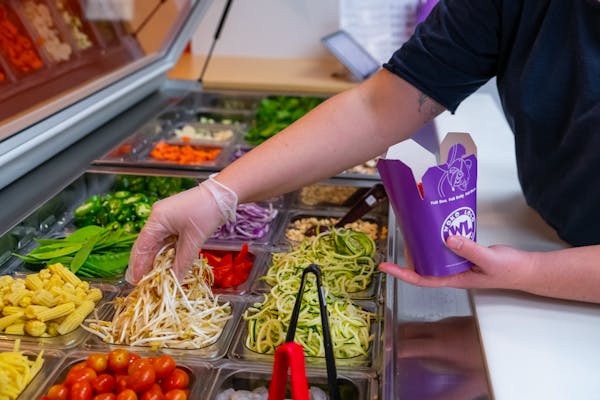 The Woko team constantly eats the food we serve and experiments with it. We want to share what we have learned to create a delicious stir-fry box. In order to create the perfect box for you, we are going to explain how we source our ingredients, pro-tips, and our favorite mixings below.
Don't forget to tag us at @wokoloco in your stories or posts when you visit so that we can see what you created.
How it's sourced:
We source everything in local shops. Right now, we go to different produce stores about 3 times per week to buy all our ingredients. We have learned from Macario, our cook, how to properly choose each and every veggie for maximum freshness and quality. This goes for the proteins that you see on the menu too. Plus, we buy our eggs from a small, local farm in south Austin so you know that they are incredibly fresh and you can taste the quality.
What's in your box:
Our boxes are made with just the right proportions. It's not just a bunch of noodles and very few veggies. It is about 50% veggies, 40% noodles/rice, and 20% protein. As humans, we should eat more veggies than anything else to keep a healthy body free of disease.

The amount of oil that we use is minimal, just enough to keep the food from sticking to the pan and for the sauce to adhere properly to the ingredients.

We suggest choosing anywhere between 3 to 7 veggies to ensure you savor each of them properly. Of course, you can choose all of them if you want, but the more veggies, the less pieces each. We eat here every single day and our favorite veggies in every box are broccoli, red onions, mushrooms, cabbage, peppers, carrots, and snow peas.

All of the proteins are cut in a way that prevents them from being chewy. Our cook is an expert at preparing those proteins the right way to maximize flavor and consistency. Chicken should be seared, shrimp shouldn't be over cooked because it shrinks, steak should be medium cooked, tofu is always crunchy on the outside and soft on the inside, and pork must be properly cooked to ensure safety and extract the lime-marinated flavor.
Pro-tips:
Try mixing the sauces! We have gradually discovered that the more you play with mixing different flavors, the better the meal gets. When cooking for ourselves, we literally mix all the sauces. We call it the "special" and we like to make it spicy, preferably with liquid lava. When the box is a little bit spicy, we cannot stop eating, there's a specific sensation that makes you crave more and more.

For the bases, we like to switch between all of them, depending on what we crave more that day. We usually don't mix them.

We cook every box individually in a clean wok. There's zero chance of cross-contamination. We are always present and mindful in each and every step of the cooking process to ensure every ingredient is cooked the right way.
As always, never forget that all of our meals are cooked with LOVE. Yes! That's the secret. Ever wonder why you loved your mom's food? Because they mindfully cook with all their love. That energy can be transmitted to the food. This is key! We enjoy what we do =)
Now, go get your order on!